The Australian Clinical Trials Alliance (ACTA) is delighted to be holding the 2022 ACTA Annual Scientific Meeting (on 7-8 November) including the Australian Registry Annual Scientific Meeting (on 7 November) at the iconic SAHMRI in Adelaide.

Program at a glance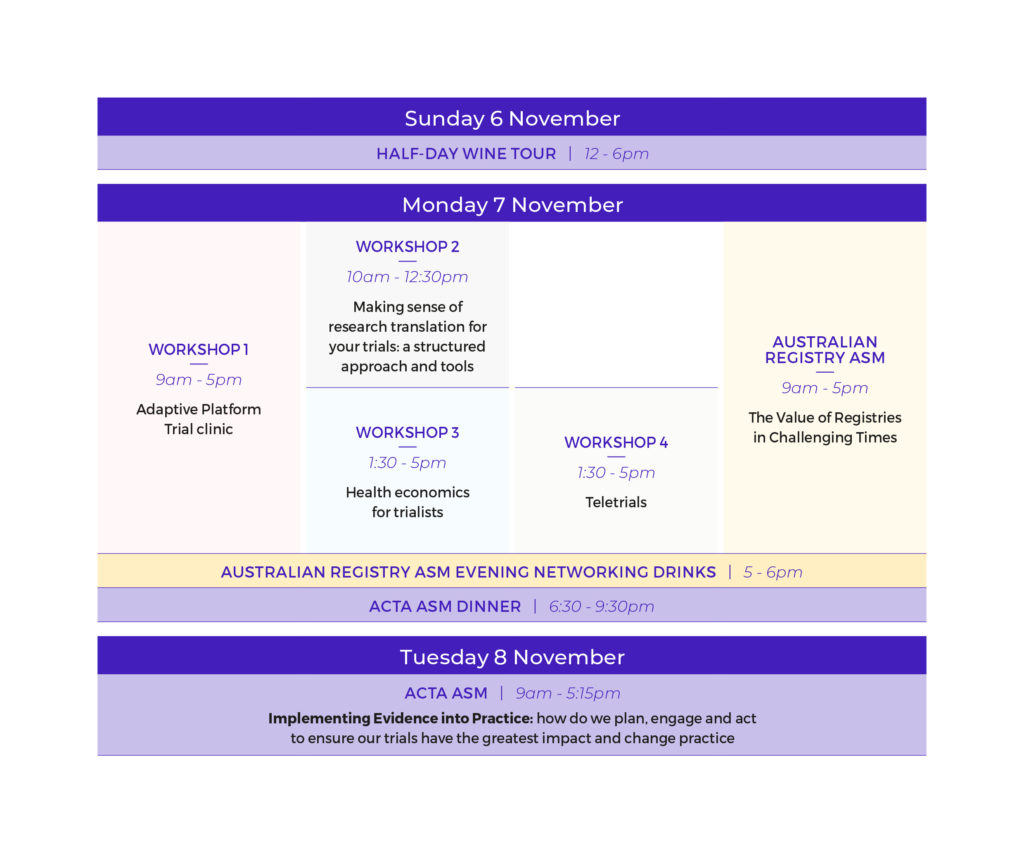 About the ACTA ASM
The ACTA ASM will be held on Tuesday 8 November with the theme – Implementing Evidence into Practice: how do we plan, engage and act to ensure our trials have the greatest impact and change practice.
The ACTA ASM will also include a day of workshops on Monday 7 November on the following topics:

Teletrials workshop
Presented by Prof Sabe Sabesan, Prof Nik Zeps, Prof John Zalcberg and Mr Ryan Clarke

In this half day workshop, you will learn more about barriers to teletrial implementation including ethical, regulatory and contractual challenges and enablers for implementing teletrials from experts such as Prof Sabe Sabesan, Prof Nik Zeps as well as Clinical Trial Networks (CTNs) which have successfully implemented the teletrial model. Teletrials will also be discussed from an industry perspective. A facilitated discussion will also be held. You won't want to miss this one.

Adaptive Platform Trials workshop
Presented by Dr Julie Marsh, Dr Colin McArthur, Mr Mitch Messer, Mr Arlen Wilcox and Prof Steve Webb
Chaired by Prof Katherine Lee and Prof Ian Marschner

Adaptive platform trials are a new type of design that offer the prospect of learning more quickly (and cheaply) about the treatment effect of a range of interventions for a defined disease or condition. This workshop will comprise presentations that cover issues related to when an adaptive platform should be used, design and operational features, governance and management of a platform, consumer engagement, funding strategies, and what can go wrong in adaptive platform. In afternoon sessions attendees will have opportunity to express interest to present the design of a proposed adaptive platform trial with feedback and discussion led by a panel with previous hands-on experience of designing and conducting platform trials. Download the provisional session agenda here.

Making sense of research translation for your trials: a structured approach and tools workshop
Presented by Prof Harriet Hiscock and A/Prof Denise O'Connor

This workshop will cover a structured approach to designing interventions to translate research into practice, drawing on the latest empirical and theoretical knowledge from implementation science. Key steps and tools for applying the approach will be discussed, including specifying stakeholder actions in behavioural terms, assessing barriers and enablers to change, tailoring interventions to bring about and sustain research uptake and evaluation considerations.

Health Economics workshop
Presented by Prof Rachael Morton and A/ Prof Richard Norman

The learning objectives of this session are:
- Understanding of the role of economic evaluation in decision-making for reimbursement and policy change
- Knowledge of different economic study designs and the pros and cons of these study designs alongside trials
- Knowledge of how to collect data within a trial and the different methodologies used to collect data
- Selection of preference-based quality of life instruments
- Understanding of the Health Economics Analysis Plan (HEAP)
We are pleased to announce that the following speakers have confirmed their participation in the ACTA ASM (view the program):
| | |
| --- | --- |
| Prof Ian Chubb | Where to from here |
| The Hon Dr Andrew Leigh MP | Viva Las Randomistas |
| A/Prof Denise O'Connor | Conducting implementation trials to advance translation of evidence into practice |
| Mrs Belinda Swan | Evidence based approaches to promoting quality use of Medicare through research partnerships |
| Prof Andrew Wilson | PBAC perspective: what we need to make decisions? |
| A/Prof Julian Elliott | Living Evidence, Guidelines and Research Strategies |
| Prof Paul Glasziou | The IMPACT project: trial features and clinical uptake |
| Prof Harriet Hiscock | Health Services trials |
| Prof Stephen McDonald | The role of registries in measuring implementation |
| Prof Alan Cass | Implementing evidence into practice: Reflecting on successes and failures in collaborative research in First Nations health |
| Prof Helen Marshall | TBC |
| Prof Franz Babl | Do networks implement the results of their trials? |
| Ms Lilian Leigh and Dr Shyam Muthuramalingam | Encouraging Consumer Diversity in Clinical Trials |
| Ms Anne McKenzie AM and Dr Janelle Bowden | Consumer Involvement and Engagement Toolkit |
| Dr Anna Singleton | Consumer engagement: Lessons learned from the EMPOWER-SMS clinical trial |
| Ms Robyn Kelly | Consumer experience (EMPOWER-SMS trial) |
| Dr Colin McArthur | Adaptive Platform Trials coming of age? ACTA Trial of the Year - REMAP-CAP |
*please note some topics may change
If you would like to submit a poster for the ACTA ASM please download and complete the
Poster submission form and guidelines
Abstract submissions close on Monday 26 September 2022
---
About the Australian Registry ASM
Please join us on Monday 7 November for the Australian Registry ASM. The theme for this event is The Value of Registries in Challenging Times.
This premier event will aim to bring together Australian Registries, as well as governments, not for profits and other funders, and clinicians and health services. The meeting will be face-to-face and also have a small virtual component.
The program is currently being finalised and will include both invited speakers as well as presentations chosen from submitted abstracts.
If you would like to submit an abstract for the Australian Registry ASM please download and complete the
Abstract submission form and guidelines
Abstract submissions close on Friday 23 September 2022
We are pleased to announce that the following speakers have confirmed their participation in the Australian Registry ASM (view the program):
Dr Bernadette Aliprandi-Costa
from the Australian Commission on Safety and Quality in Health Care
An update on the Australian Clinical Quality Registry (CQR) Framework.
Ms Sally Rayner
from the Clinical Quality Registries Section, Australian Government Department of Health and Aged Care
The National CQR and Virtual Registry Strategy 2020-2030.
Prof Belinda Gabbe
from the School of Public Health and Preventative Medicine, Monash University
The value of registries in monitoring outcomes following practice changes and public health challenges: Victorian State Trauma Registry
Prof Maria Inacio
from the South Australian Health and Medical Research Institute (SAHMRI)
The Registry of Senior Australians: Using Australia's Aged Care and Health Care Data to Inform Care and Policy Reforms
---
Join us at one of our ASM social events
Along with the main meetings and workshops, we will also be holding three social events – a wine tour on Sunday afternoon 6 November, Australian Registry ASM evening networking drinks on Monday 7 November and a ACTA ASM Dinner at the beautiful National Wine Centre of Australia on Monday evening 7 November.
Sunday 6 November – wine tour
Leave Adelaide CBD at 12pm. Enjoy lunch and wine tasting at Beresford Estate and Woodstock Winery followed by some free time in McLaren Vale Main St. Return to Adelaide CBD by 6pm.
---
Thank you to our event supporters
An exclusive offer for ACTA ASM attendees from our event partner Praxis Australia
Praxis Australia, in partnership with ACTA, is offering ACTA ASM attendees 20% off all PRAXIS Australia training offers, including Research Essentials, HREC Essentials and all Virtual Workshops.
To help you meet your training needs for 2022, when you register for the ACTA ASM, you can gain access to expert-led online courses at an exclusive price – but only for a limited time.
Note: offer exclusive to ACTA ASM attendees. Only valid for enrolments received up until 8th November 2022.